Montauk Marine Basin houses a full service boatyard.
Our features and services include:
3 travel lifts up to 70 ton hauling capacity
10,000 Square Foot Indoor Shop
Propeller and Shaft Repairs
Bottom and Hull Painting
Sand Blasting and Bottom Resurfacing
Hull Repairs and much more
Hull and Topside painting
Engine and Outbaord Repair
Climate control repair
Generator Sales and Repairs
Spring Service request for vessels stored for 2014 season please fill out and fax or email back to MMB asap
fax to 631-668-5659 or email to yachts@optonline.net
Spring Hull Maintence ( bottom painting ,hull waxing etc)
Spring Mechanical Maintenence( engines,oil changes etc) page 1
Spring Mechanical Maintenence ( systems) page 2
Montauk Marine Basin has affiliations with many major OEMs with excellent parts availability. Authorized parts and service for
Detroit Diesel, Westerbeke, Northern Lights, Caterpillar, Yanmar, Volvo Gasoline, Phasor ,Lugger.& Onan
Montauk Marine also uses various outside insured contractors for service at the facility, all insured and bonded. Contact the office for details.
Eastern Mechanical Systems (Andy Ceslow)
Ryan Persan Marine (Ryan Persan)
Montauk Marine Electronic (Amen Breheny)
Karen Sue Boat Works ( Bill Urvelak)

Check Mate Marine

East End Canvas(Riccardo)
Long Island Fiberglass( Sal)
All Island Diesel ( Rick Freda)
Local boat transport service
available on a hydraulic trailer over the road or by water by licensed captains.
Winter storage and indoor boat storage available, as well as Winterizing, Shrink-wrapping, Engine and Hull Maintenance, Detailing, Canvas repairs, spring preps with full sea trial.
Road service covering most of of Suffolk County!
Engine Tuning and Rebuilding, electrical repairs, carpentry and woodworking also available.
Montauk Marine is Authorized Dealers for:
Detroit Diesel Dealer
Alaska Diesel including Lugger and Northern Lights Generators
Cummins
Caterpillar
Mercruiser

Onan

Yanmar
Offering parts and service for these and other fine brands. Mention viewing this site and receive a free maintenance inspection and a maintenance package catalog. Call us at 631-668-5900 about a quote on service work.
---
Winter Storage Terms of Contract and Service
All Customers must sign a Winter Storage Contract and supply proof of Insurance.
1/2 payment due on signing of Contract with balance due upon receipt of Invoice.
All Winter Storage ends on May 1. Any boats in storage at that time will be subject to extra storage and any moving charges thay might be incurred .

All boats for Sale must be under contract with Montauk Marine Yachts Sales Brokerage.
All boats stored out doors must have drain plugs or one will be installed at Customers expense.
All Out Side Contractors working on the property must be pre-approved and will be billed through Montauk Marine Basin to thhe boats account.

Montauk Marine Basin service department is not reponsible for delays or damages caused by weather,theft,fire or any other cuases beyond their control.
Montauk Marine Basin is not reponsible for electronics, fishing equipment and all other equipment left onboard vessel during winter storage.
All work from gunwhale down will be done my Montauk Marine Service Dept this shall incude but not limited to bottom painting, zincs,prop and undercarriage work.
All boats for sale must pay for Winter storage. if the boat is sold the winter storage charges may be pro rated at the discetion of Montauk Marine. Additional charges willbe incurred if other boats need to moved to gain access to remove the sold vessel.
Customers shall be responsible for pumping out their holding tanks prior to haul and shall maintain their bilges in a clean condition.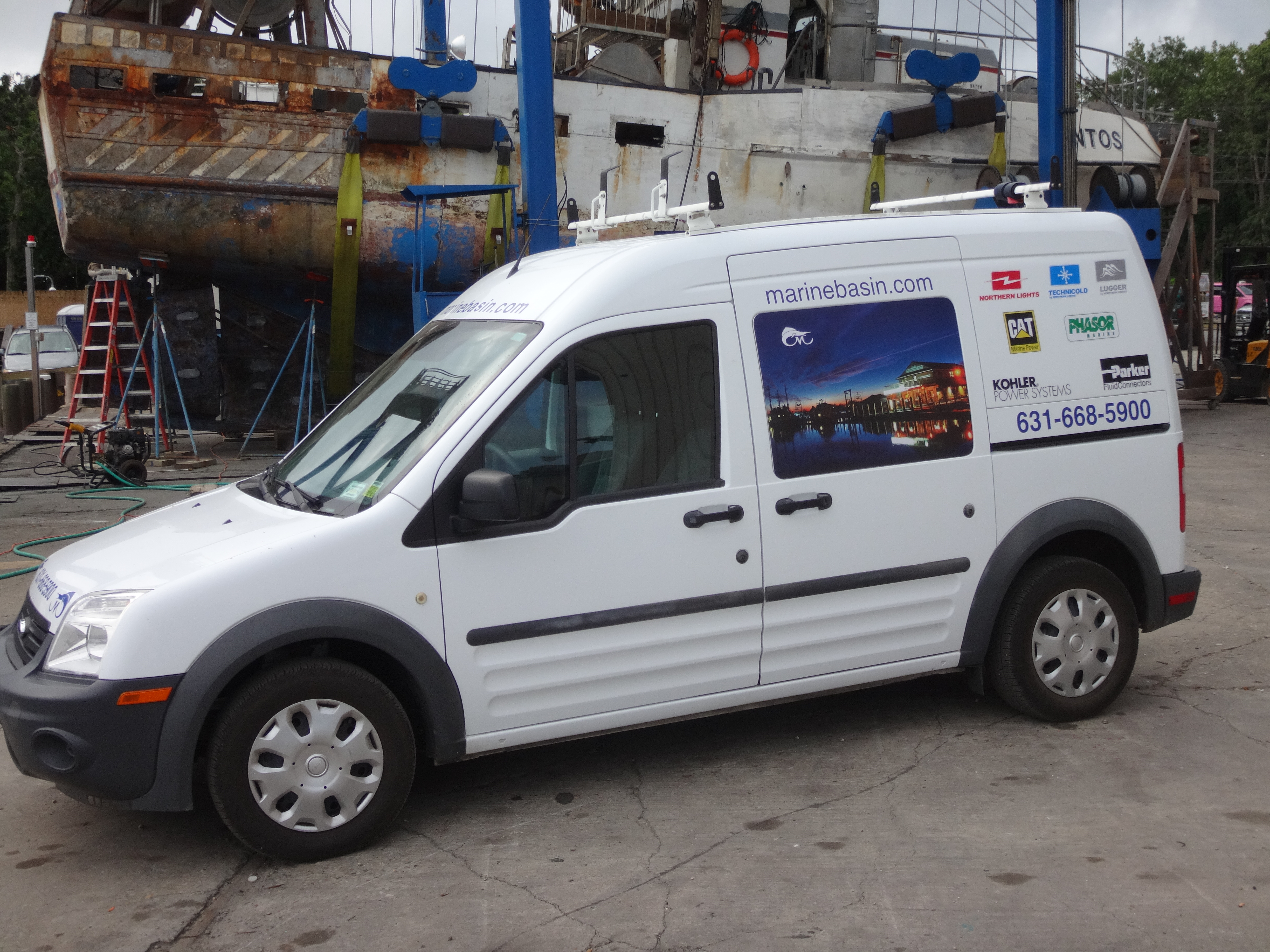 New for 2014 Montauk Marine service truck